The Crystal Mountain Spiritual Education Forest Retreat Centre
The Centre was established in 1980 and is a rustic, forest-style retreat centre with simple facilities. It is located in a beautiful secluded valley at the north end of Galiano Island – a setting ideal for study and contemplative pursuits.
In December 1999, responding to a growing interest in retreat activities, Crystal Mountain Society acquired additional land and tripled in size from 20 to 61 acres. Currently, on site programs run only during the summer season. All programs, building, maintenance and organization, in keeping with the teachings of the lineage, rising from a base of generosity, are run on a volunteer basis. Donations to support the work on the land are always appreciated.
For some retreats, especially taking place in the colder seasons, you may be staying at rented retreat accommodations and attending teachings on private property. In this case you would be expected to follow any requests from the landlord and be responsible for any damage you incur to the rented property. You would be expected to be respectful of the needs of your housemates in shared spaces if applicable.
For the Annual Summer Retreat participants are invited to camp on Crystal Mountain land. Tent sites are available on a first come first serve basis (please bring your own tent). There is NO cost to stay on the Crystal Mountain land. If someone is considering renting off-site accommodation, please check with the registrar prior to making a commitment, as this requires prior approval.
PLEASE NOTE: The retreat centre has no electricity. The kitchen, fridge and stove are run by propane as is the hot water tank. The shower room has a hot water shower. Volunteers form the heart of each and every retreat held at Crystal Mountain Retreat Centre. The cooks, shoppers and daily maintenance jobs are all volunteer positions. If you feel called to help in this way, please contact the registrar.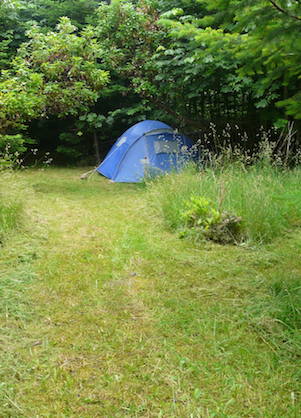 We have an open-air, roofed kitchen facility with propane stove, oven, fridge and sink. There is no electricity. There is an adequate supply of plates, cutlery, pots, pans, and tea and coffee pots. 
If you have dietary requirements for health reasons, we will try to accommodate your requests when shopping. However, part of practising Buddha Dharma involves cultivating equanimity and learning to accept what comes up and that especially includes food. If you do have special needs, please make sure you have put that information on the registration form—including any allergies you may have.
As well, a shopper or two is needed on each course. The Lama will seal the retreat site at the beginning of the course and entrance will be restricted. A designated shopper will purchase kitchen supplies and personal items for special needs. Please bring cash, there is no bank on the island. Please anticipate your needs and bring as many personal items you anticipate you will need for the full retreat. Shopping on island is very limited. Please come prepared.
Shower, Water and Laundry
There is a small washing room with sink and shower. Please bring your own toiletries, towels and BIODEGRADEABLE soap. Toilets are non-flush, drop loo style. (portapotties!) Washing and drinking water is pumped from a ground well. We are fortunate to have an adequate supply of very good water and a strict policy of water conservation. There are no washing machines as there is no electricity, but there is a clothes-line on which to hang your hand washed items to dry. Weather in the Pacific Northwest is unpredictable and can quickly change. Bring layers of clothing, including warm outerwear & rain-gear.
We will be sharing public spaces. Please be respectful of your fellow retreatants: we practice silence, awareness & generosity. It can be uncomfortable at first to avoid eye contact as it goes against our socialization; with practice you learn the benefits. Please remember those working in the kitchen are in retreat too. Direct your questions/needs to the retreat manager.
The Crystal Mountain Spiritual Education Forest Retreat Centre is located in a rugged area with paths on uneven ground, dangerous cliffs and no outdoor lighting. You will be responsible for your own safety at all times. Upon arriving at any retreat you will be requested to sign a Release of Liability Form. This form will release Crystal Mountain Society, its teachers, agents, volunteers or members from responsibility or liability for any injury or illness which may occur on CMS property, teaching venue or residence where, classes, interviews or visits may occur anytime during the retreat. It releases any claim which may arise from any such injury or illness. Download form here>>